NinoTNC
Jump to navigation
Jump to search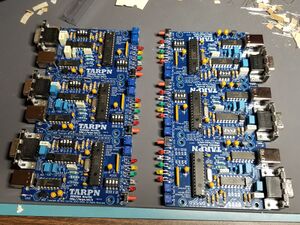 What is it?
The NinoTNC is a DIY TNC
Summary
The NinoTNC was designed by Nino KK4HEJ and Tadd KA2DEW with assistance from N1LTV and K4DBZ to replace the defunct TNC-Pi supporting the building of the NCPacket network.
The NinoTNC supports 1200 baud (Bell 202), 2400 baud APSK, 4800 baud GFSK, and 9600 baud (G3RUH) in both AX.25 and IL2P
IL2P offers Forward Error Correction which helps with link stability and error reduction on a path using it.
You can find links to purchase the NinoTNC PCB / Processor and the Bill of Materials at http://tarpn.net
If you are interested in building one of these TNCs, please reach out to the group first. There may be a supply of boards and components floating amongst the group at any given time.